Description
ISP management system (Using Mikrotik API) which helps you to manage your ISP business smoothly. ISP business owners can manage their PPPoE and Hotspot Users. Create new PPPoE and Hotspot users from Zal dashboard. No need to login into your router to create PPPoE/Hotspot user. Enable or Disable your PPPoE/Hotspot user easily from the dashboard. Connect PPPoE/Hotspot user secret with the portal user and manage to bill, send SMS/Email, generate the auto invoice and many more.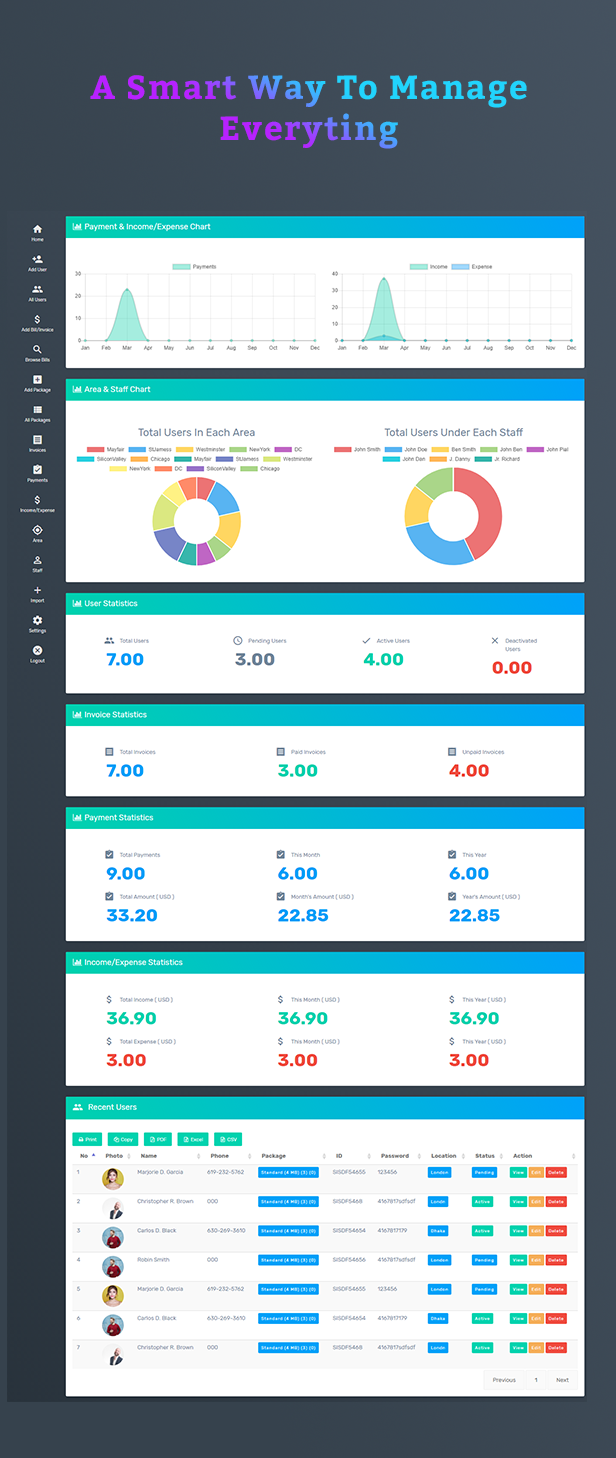 ISP management system which helps you to manage your ISP business smoothly. This is developed for ISP and Cable business owners. Not only ISP/Cable business owners but useful in other related businesses as well. We developed in a way so that entrepreneurs, startups and ISP/Cable business owners can run their business smoothly and in the right way.
Now manage your business on the go from anywhere by any device. Forget about puzzling manual token system to keep clients payment and other records. This gives you a smooth digital opportunity to deal with those manual boring tasks. All of your's needs is packed in one system including Auto Generating Invoices and Bills, Online Payments, Income/Expense etc.;.
Features
Beautiful Dashboard
Multiple Powerful Widgets
Payments Chart
Income & Expense Chart
User Chart By Area
User Chart By Staff
User Statistic
Invoice Statistic
Payment Statistic
Income/Expense Statistic
Recent Users List
Add User
Manage User
Auto User Connection ID & Pass Generate
Auto Generate Invoice & Bills
Manually Add Invoice & Bills
Browse Bills (Paid & Unpaid)
Make Bills Paid & Unpaid Bills (4 Ways)
Add Package With 5 Extra Dynamic Charges
Manage All Packages
Manage All Invoices
Print Invoice
Generate Invoice's PDF
Payment By Paypal
Payment By Stripe
Local/Manually Payment
Manage All Payments
6 Payment Widgets
Browse Payments By Month
Browse Payments By Year
Add Income/Expense
Manage Income/Expense
6 Income/Expense Widgets
Browse Income/Expense By Month
Browse Income/Expense By Year
Auto Income Listed When Payments Made
Add Area
Manage Area With Users, Active Users, Pending & Line Man
Add Staff
Manage Staffs With Users, Active Users & Pending Users
Import Mass Users Data
Export Data (Print, PDF, Copy, CSV & Excel)
All Global Currency Support
Auto Vat Calculation
User Individual Dashboard
User Can View Their Invoices
User Can View Their Payments
User Can Edit Name, Image and Pass
User Can Browse Their Bills By Month/Year
Invoice & Payments Notification By SMS & Emails (Nexmo, Twilio & Mailgun)
Ticket System